All classes are COMPLETELY ONLINE,
YOU NEVER HAVE TO LEAVE HOME
A comment from one of our students-
"These classes are so thorough - I am having a blast! Because they weren't directly through the college I was not sure how challenging they would be, or if I would learn a lot, but I am totally impressed! The choices in books are fantastic! I couldn't be more pleased! The communication with you both is always prompt and that is super! You have given me confidence that I will be great! You do not try to hide your training methods as a lot of trainers do"
K. Samitore, Oregon.
Certified Equine Specialist-
Live Your Dream and work with horses daily. You will take nine management classes and study all phases of horse management and add to those four hands on horse training classes. In the training classes you will learn how to make your horse soft and supple and a willing partner.
In the management classes you will learn how to feed, manage, train and market horses and then learn how to develop a business that allows you to use all of your newly learned information. This program is for those people that want a well rounded program with an emphasis on training. There are four riding classes in this degree. This degree is for those that want an occupation that involves more hands on training of horses.
We realize college education has gotten very expensive and at GEA we have tried to come up with the exact program that will help you get involved in the horse industry at a realistic price. For the person that wants to have a degree plus have a complete equine experience, we suggest, you take one of the certificate programs and then go to your local community college and get a degree in business and you can save a lot of money and still be very qualified to succeed in the equine industry. If you have any questions give Sandy a call at 605-391-0592 and she can help you find a program that will meet your needs.
High School students you can start taking the equine classes from Global Equine Academy any time and by the time you graduate from high school you will have the equine knowledge you need to be successful in the equine industry, then get a degree locally and you will be able to live your dreams and still not break the bank.
Showing a reining horse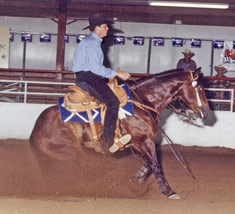 Sam one of our graduates, showing a reining horse.
Classes-
Facility Management
Equine Behavior and Ground Work
Equine Nutrition
Equine Reproduction
Equine Business
Equine Marketing
Equine Anatomy and Selection
Stallion Management
Equine Health and Diseases
Techniques of Training I
Techniques of Training II
Techniques of Training III
Techniques of Training VI